My Father was a man who saw me and his Loved ones, through the eyes of Source. I knew when he looked at me, I was being seen through Soul eyes… I could shave my head, paint my face blue – and he wouldn't notice. His Soul was not superficial or shallow. He was interested in the Real person beneath. He sometimes would talk about why and how he knew he wanted to marry my Mother. It was not because of her striking beauty – and my Mother was indeed a natural stunner! He told me it was because of her soul qualities, her strength and resilience. He so admired her encouraging and supportive nature. He said "Your Mam's inner beauty matches her outer loveliness. It is easy to love another when things are going great, in the Honey-Moon stage, when butterflies are flying high! But we see the true character of a Soul when times get tough. Your Mam showed such Grace and she stood by me throughout everything. This is what impressed me so much about your Mother, even all those years ago, from our early days of dating."
In the 31 years knowing him, he never once said a negative thing about my Mother. He Loved her in a way that was beyond words… He Honoured the Divine Feminine within her, seeing her beauty within. Through his example, I have been shown the real way one can love another. My Mam was always comfortable to be and express her full self, with my Dad. There was a united companionship that needed no dramatic displays or frills. Their Union was Real. My Father's Love was without conditions, without limits. His trust, his care and his faith in his wife's Heart, was strong and steady. As a child, there was a sense of security and a solid foundation, always in place.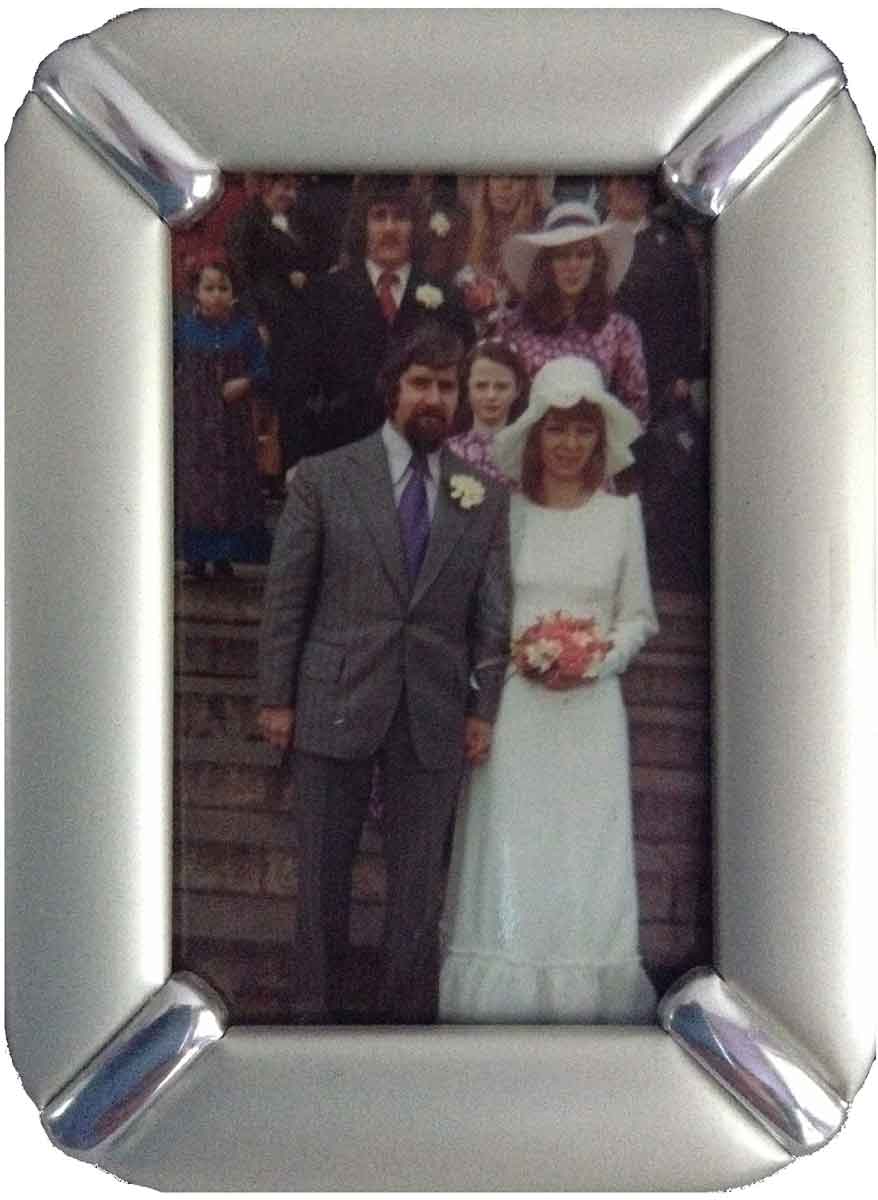 In a humble, small, silver frame, there is a picture of my Dad holding my Mam's hand on their Wedding day. They stand like two pillars, on the church steps. It is a simple photograph, capturing a beautiful moment. My Father looks so Proud, handsome, young and strong… He has his trademark mop of thick shiny hair, his tanned face smiling with full satisfaction. He embraces his new partner, his equal, his Beloved, with a sense of Belonging, Fortitude, and abundance. There is a richness, a satiety in his eyes…His firm stance steady as an oak. (Not bad for a kid who at ten years old was told by doctors that he would not survive the dreadful bout of Meningitis that was killing his body; his family fully prepared for his death.) This Gentle man, the fighting spirit aglow, is ready to begin his new, joyful life, creating a family with my Mother…
Blissfully, unaware that someday beyond the next forty years, this pretty little lady by his side, delicate in her long, white daisy dress, bright blue eyes beaming! Would bring three Souls forward with him, and eventually care for him without question…
She washed him, she carried him, nourishing, minding and caring for my Dad through thick and thin. My Mother in return, Honoured him.
They Honoured each other.
For this beautiful lesson in Love, in Soul, I am so Grateful.